Our Powder Coating Process
Southern Ontario's Largest & Most Experienced Powder Coating Company
The Powder Coating Gold Standard
ABC Electro Powder Coating Ltd. continuously improves on our process to ensure the highest quality possible. Satisfying the needs of our customers, delivering to them product on-time and defect-free, remains our highest priority.
ABC Electro Powder Coating believes it is the responsibility of every team member, at every level of our organization, to give their personal commitment to achieving the goal of complete customer satisfaction.
Our flexibility and creativity continues to win over our customers and keeps them coming back for years. A perfect example of our commitment is our in-house, custom tooling, which reduces tooling time, overhead and costs, by allowing us to design / build the racking required to efficiently powder coat your products.
ABC Electro Powder Coating Process
ABC Electro Powder Coating Ltd. should be your FIRST & ONLY CHOICE when your product requires a finish to enhance both beauty & increase its durability.
We pride ourselves on the highest quality powder coating possible, refusing to settle for second best. Our dedicated quality system, developed in-house specifically for our our powder coating system, ensures every production product we create is tracked from the time it arrives until it leaves our facility, located south of the 401 in Port Hope, Ontario.
Powder coating can be applied to almost any metal item that can withstand the typical curing conditions of 180 to 220 degrees Celsius for 10–20 minutes, depending on the substrate and if it can fit through our full powder coating system at 42" high x 32" wide x 96" long.
ABC Electro Powder Coating Ltd. serves businesses and individuals in Ontario, Quebec and many other provinces with high quality powder coating and metal finishing.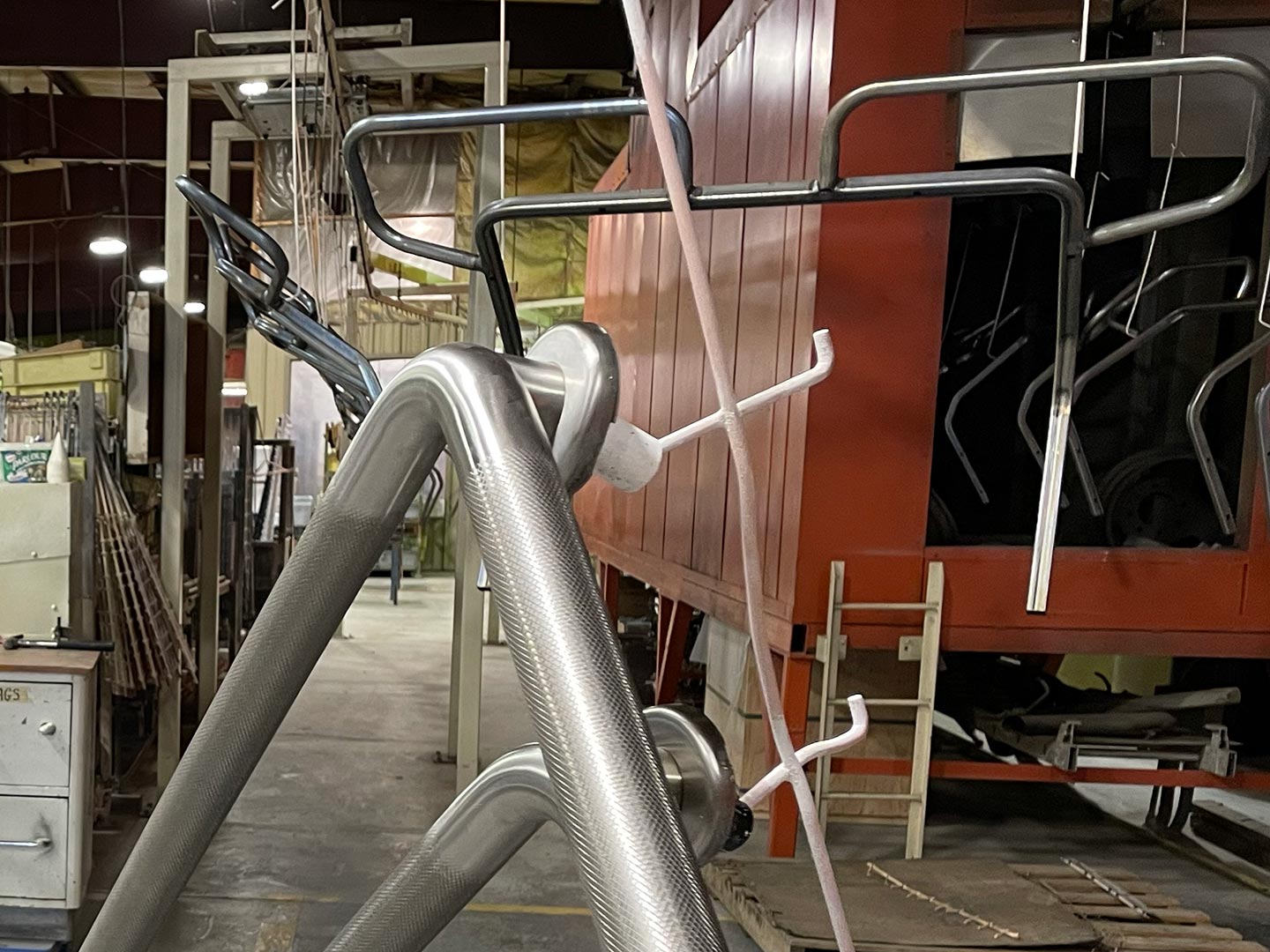 Unloading occurs within our drive-in bay.
Product goes through an initial quality inspection for possible irregularities caused by manufacturing or shipping. All non-conforming parts are immediately separated and brought to the attention of the customer. Product is then stored in designated areas to await scheduling.
All new products, having not been powder coated before, are documented on a visual aid form for future referral and filed. This internal quality form records all production requirements, from colour, type of powder required, special packaging, inspection criteria and masking needs, if required.
Repeat powder coated products get reunited with previously documented visual aid forms, where pertinent information is referred to throughout our whole system as an integral part of our quality control and success.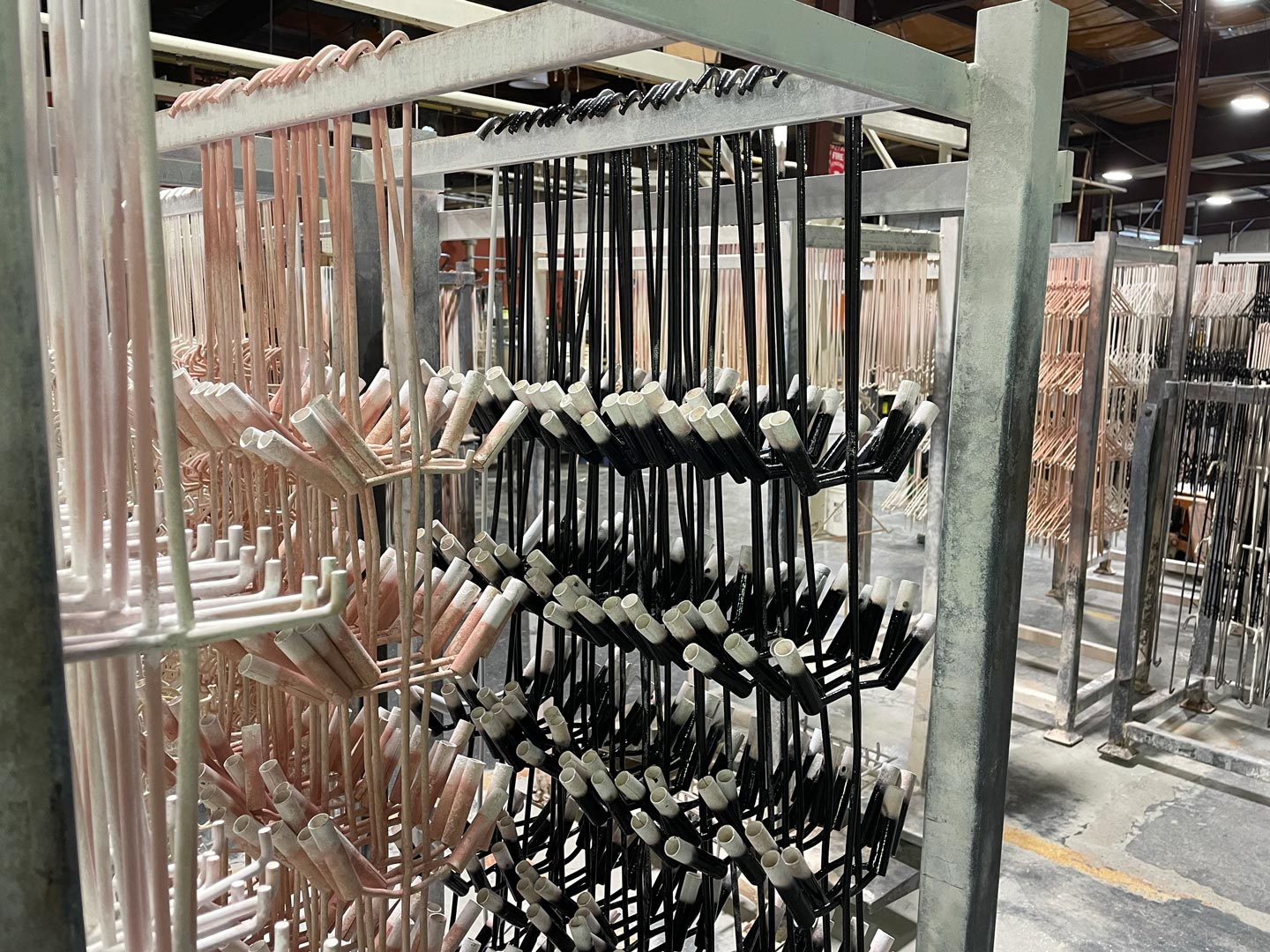 2. Scheduling & Preparation
Scheduling is completed for customer's delivery requirements. At this point, a travelling work order is initiated and joined with all pertinent information (visual aid form) required for a quality completion of the product.
Product is located in its designated storage area and then moved to the powder coating conveyor line loading area. Parts, once again, are visually inspected for irregularities, the required custom powder coating tooling and product are then loaded onto the overhead line and thus they are ready for their journey through the complete powder coating system.
While it may take as little as 2 hours for an item to pass through the entire powder coating system, normal PER JOB turnaround is approximately 5 days. Regular scheduling is available and preferred in order to significantly reduce turnaround. Pickup or delivery are available.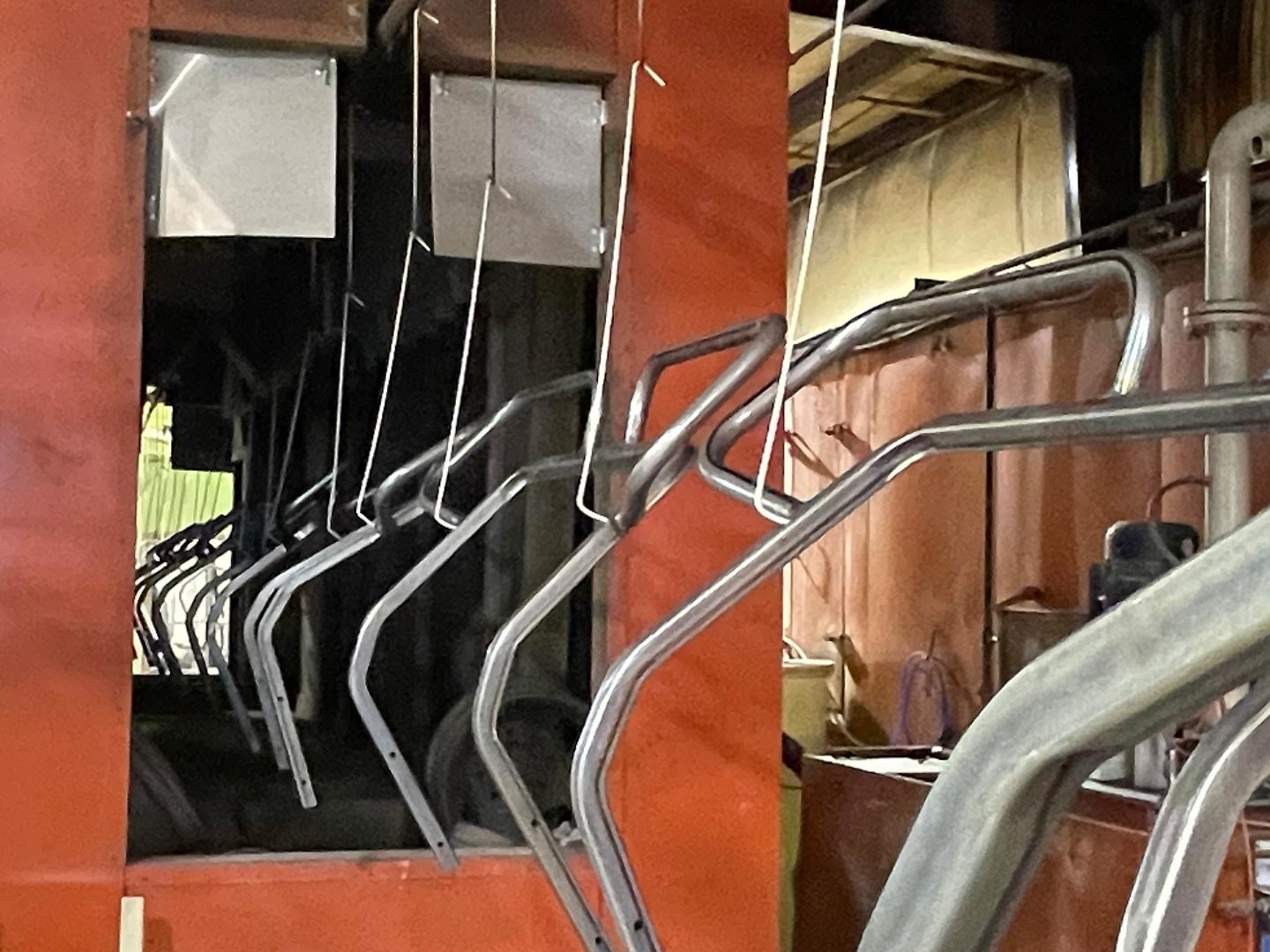 Still attached to the powder coating conveyor, the product passes through an extensive chemical cleaning system of 5–7 stages, depending on the substrate, while both include a final reverse osmosis rinse.
This pre-treatment ensures a squeaky clean, phosphated and etched substrate for powder coating. This is one of the most critical steps in high quality powder coating. After leaving the final reverse osmosis rinse the product travels through a separate powder coating dry off oven. This allows us to control the temperature to ensure properly dried parts and to prevent the overheating of difficult parts such as zinc and aluminum die castings.
The parts then proceed through a cool down area to bring them back to room temperature, before they're ready to proceed with powder coating. Additional visual checks for quality control take place as the product moves along the conveyor.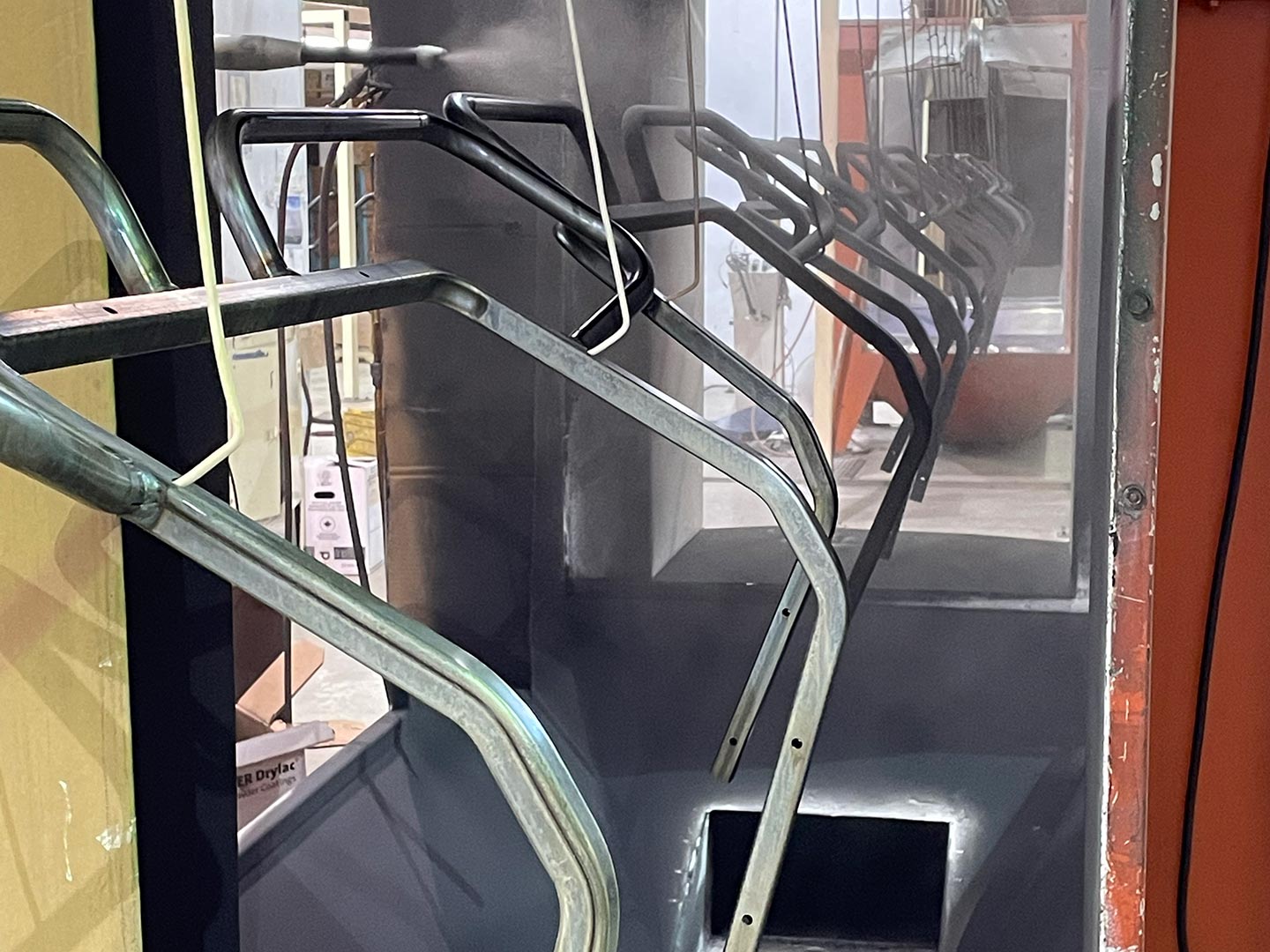 After cooling down to room temperature, the pretreated product passes into our dedicated enclosed powder coating area.
Here, the required powder is evenly applied by one of our trained technicians or with automatic reciprocators. Over spray powder can, if required, be reclaimed and reused. As the parts are sprayed they once again are inspected visually for irregularities.
Product may require additional touch-ups and will pass through a second powder application booth for further application and inspection.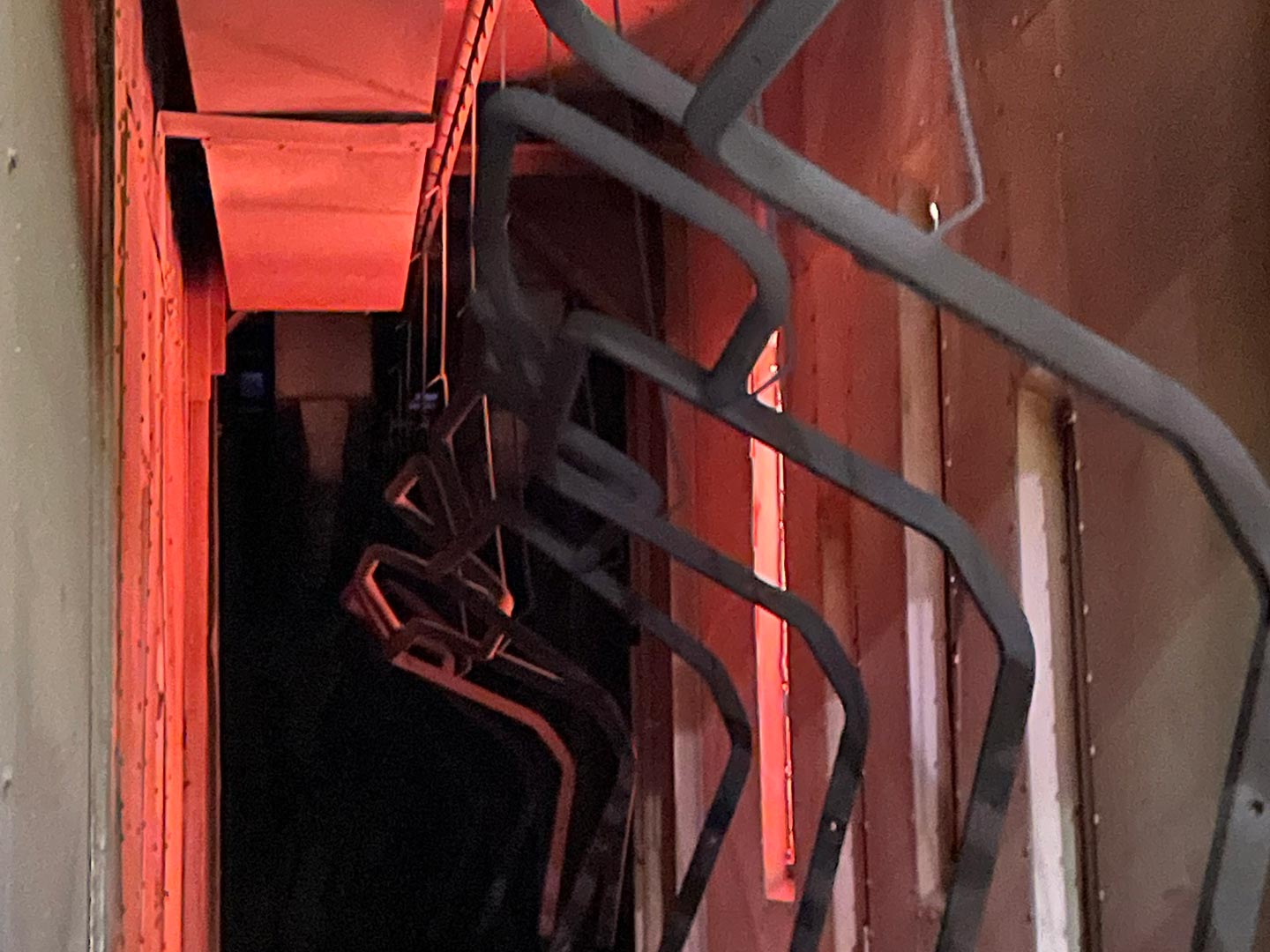 The product is transported through our powder coating infra-red preheat section, which is used to move the powder quickly into a liquid state. This in turn allows us to move large amounts of heated air in our powder coating convection bake oven to ensure we have a full even cure without removing powder from the substrate. Resulting in a beautiful, incredibly durable finish that's second to none.
PRoduct will, once again, be visually inspected as it moves along the conveyor and begins to return to room temperature.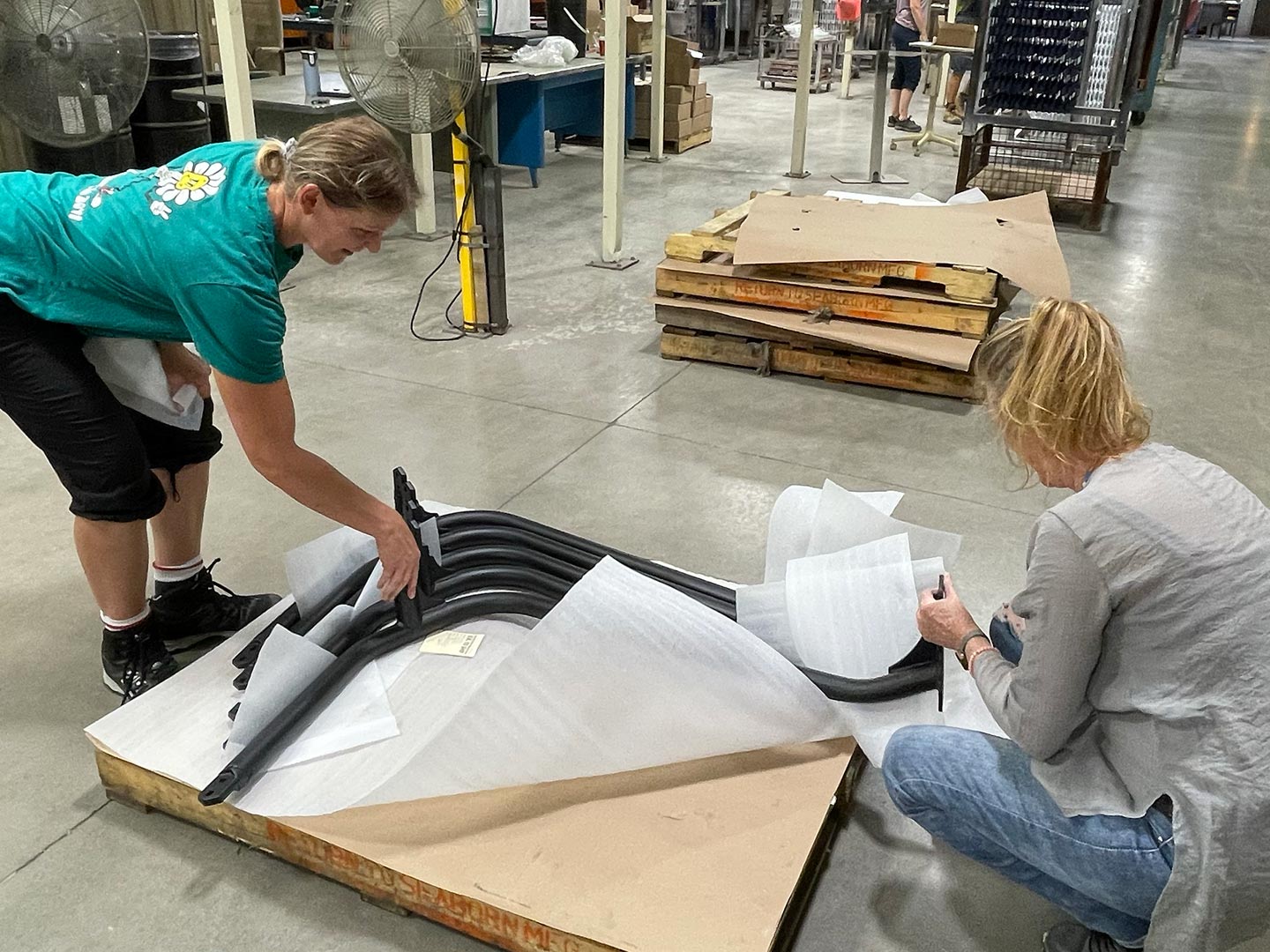 The items are now allowed to cool to complete the powder coating process.
Once cooled, each item is individually inspected and carefully re-packed in our customer's containers as per the visual aid instructions and sent back to our satisfied customers.
While it may take as little as 2 hours for an item to pass through the entire powder coating system, normal PER JOB turnaround is approximately 5 days. Regular scheduling is available and preferred in order to significantly reduce turnaround. Pickup or delivery are available.
10 Great Reasons For Powder Coating
Highly chip and scratch resistant.
Excellent chemical, petroleum and salt resistance.
The ability to apply a thick, even coating without drips or sags.
Premium insulating qualities, both electrical and thermal (removes cold metal feeling).
Decorative finishes (eg. Hammertone, Antique, Sandtex, Textured) applied in one application.
Excellent fade resistance to ultraviolet light, reduces fading (polyester & polyurethane).
The ability to encapsulate products, wrap around corners and help eliminate sharp edges.
High quality, one coat coverage with no primer necessary.
Can resist abuse in low and high temperature variances.
Virtually unlimited number of colours and wide variety of finishes available.